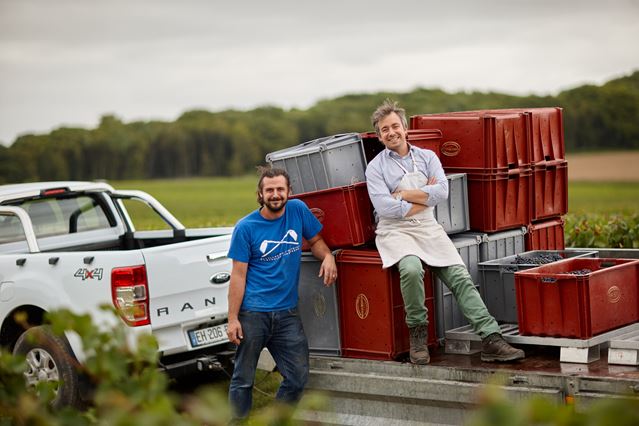 As well as 1er Cru Ludes, they also own a clutch of well-placed vineyards in and around Ormes (Petite Montagne) and Mareuil-le-Port (Vallée de la Marne), as well as isolated parcels in Trépail, Rilly-la-Montagne, and Chigny-les-Roses. To complete the picture, they recently added small plots in the grand crus of Mailly, Ambonnay and Aÿ, taking the domaine into a different league altogether.
Vincent is in charge of viticulture aided by a team of ten full-time employees – around one hectare per person – the work is fastidious, restricting yields, ploughing both between the rows and vines (during plant growth but not in summer) and hand harvesting with a large team of pickers. They work without herbicides or pesticides, bouillie bordelaise is applied against oidium/mildew although treatments might be used in case of extreme climate pressure.
Raphaël's work in the cellar is equally detailed and thoughtful. Wild ferment is the norm and, increasingly, the champagnes are aged for extended periods under oak – about three quarters of the wines are now vinified in 350ltr barrels, the taille goes into 205ltr barrels and the reserve wines in 600ltr demi-muids. Due to their low pH and high level of acidity, the wines generally don't go through malolactic fermentation, which helps preserve finesse and ensure longevity. In addition, all the Bérêche top wines are now aged under cork (for additional complexity) as opposed to the more traditional capsule. As cork nuts at Vine Trail, we have to compliment Raphaël for selecting the highest grade called 'Fleur', with an extra density and strength that ensure a much lower incidence of 'chevillé' corks– where the bottom of the cork turns in and there is a risk of a little oxygen ingression.