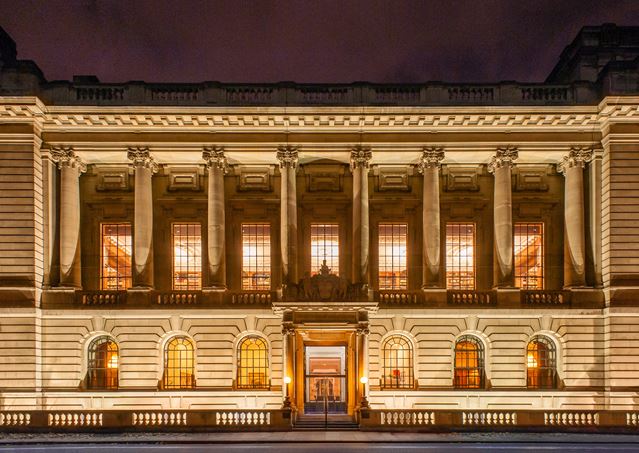 An unforgettable venue for a Champagne experience unlike any other.
1 Great George St
London
SW1P 3AA
You can learn more about One Great George Street on their website.
How to Reach One Great George Street
By London Underground
Both Westminster (Exit 6) on the District, Circle and Jubilee lines, and St James's Park on the District and Circle lines, are just 5 minutes walk away. For more information, visit the Transport for London website.
Walking Directions from Westminster Underground (exit 6)
When you arrive at the top of the stairs you will be on Whitehall. Turn around (as if you were to walk back down the stairs) you are now facing Parliament Square. Walk around to the right onto Great George Street until you come to two sets of traffic lights. Cross over both and continue walking straight down Great George Street for about 1 minute. One Great George Street is the last building on the corner of Great George Street and Storey's Gate. The building is also the home of the Institution of Civil Engineers.
By Rail
London's mainline stations at Waterloo, Victoria and Charing Cross are minutes away by foot or by Underground. For further information visit the National Rail website.
By Bus
Numerous bus routes pass within a 1-2 minute walk of One Great George Street. Bus routes stopping near Parliament Square include: 3, 11, 12, 24, 53, 87, 88, 148, 159, 211 and 453. For further information visit the Transport for London website.
By Bicycle
Local bicycle information can be found on the Westminster City Council website. The nearest TFL bike hire docking station is located just opposite the building on Storey's Gate. Click on the Cycle for hire website and type in our post code SW1P 3AA. If your bike folds our cloak room can hold approximately 5 bikes at one time.
GPS co-ordinates
Main entrance – 51 30.0822 N and 0 07.7500 W and Princes Mews – 51 30.0420 N and 0 07.7185 W
By Car
The nearest car parks provided by Q-Park are located in Abingdon Street and on the south side of Trafalgar Square. Limited meter parking is also available in and around adjacent streets.
Disabled Parking
The nearest Blue Badge disabled parking bay is located on Matthew Parker Street (drive down Storey's Gate to the west of the venue and take the second right). Alternatively, a little further away, there are bays on Old Queen Street and Queen Anne's Gate. These Blue Badge bays offer free parking for up to 4 hours between 08.30 and 18.30 Mon-Fri and unlimited parking at any other time. Please see Westminster Council's website for further information.
Congestion Charge
One Great George Street lies within the charging area. For more information, including charges, visit the Transport for London website.
By River
A River Bus Service runs every 20 minutes during peak time from Embankment to Woolwich Arsenal; the nearest pier to us is the London Eye.