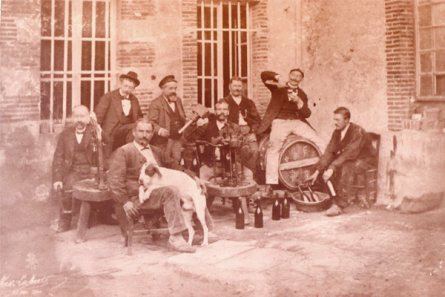 Aurélien Laherte is part of a dynamic young generation of vignerons making waves in Champagne and producing a fine array of terroir-driven champagnes, adopting a natural approach to viticulture.
The family have 10ha of vines split into no less than 75 parcels in ten different villages, although 81% are within five minutes' drive of Chavot. Aurélien identifies no less than 27 terroirs in Chavot. "Our wines show more influence of clay than those in the Côte des Blancs, yet they are chalkier than those of the rest of the Vallée de la Marne", remarks Aurélien. Pinot meunier represents the majority of Laherte's plantings.
They are a meticulous domaine where every action is carefully weighed and considered, and their philosophy essentially involves the infinite quest of looking for balance in their grapes, soils and vineyards. Viticulture is essentially organic, although their work is tailored to each parcel's needs. The soils are ploughed during spring, but Aurélien has reduced this to the minimum to increase organic matter. Plant-based infusions are used to fight oidium and biodynamic preparations (500, 501) are sprayed for fertility and vigour.
Aurélien learned from his father that you have to take the time to do things well and that being a vine-grower means remaining humble and patient. And so they keep old vines (in some parcels up to 70yo) which all come from sélection massale plantings, they have a team of ten employees, vinify separate cuvées from individual plots, work with two 4000kg Coquard presses to ensure that grapes can always be pressed at the optimal moment, use natural yeasts for the first fermentation, taste all cuvées every year before deciding whether to block or carry out malolactics, oak (80%) or cuve age their wines, and use minimal dosage.