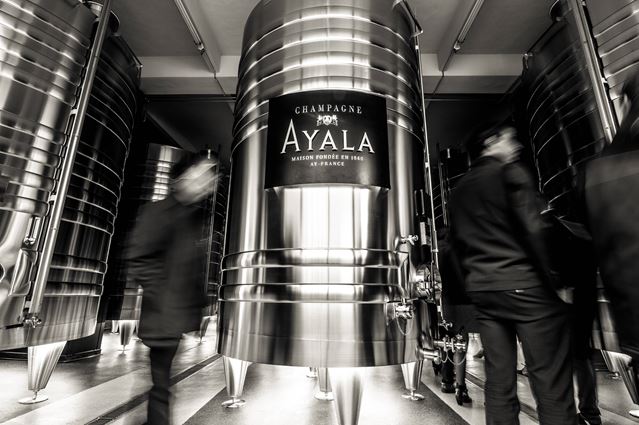 Champagne AYALA is one of the oldest Champagne Houses and has always been recognised for the quality of its wines.
As well as being one of the founding members of the Syndicat des Grandes Marques de la Champagne in the late 1800s, AYALA made a name for itself in the early 1900s in the thriving export market of Great Britain by pioneering a dryer style of Champagne, which was preferred among the upper echelons of British Society. This led to the House being awarded a Royal Warrant by King Edward VII in 1908.
Champagne AYALA was bought by the Bollinger family in 2005, which was the start of a resurgence for the House with a complete restoration of the winemaking facilities and the definition of the AYALA style; purity and elegance. Cellar Master, Julian Gout, is at the helm of crafting these exceptional chardonnay-dominant Champagnes, using grapes from an impressive palette of crus from all over the Champagne region, and especially the Grands Crus from the Côte des Blancs. Julian is part of the young generation of environmentally focused Champagne makers who are helping to shape the Champagne region of tomorrow. Creating an AYALA Champagne is a truly artisanal process; outstanding quality grapes undergo micro-vinification in 120 small stainless-steel vats to isolate the flavour profile and structure of each parcel, of each cru, of each vintage and the House's top cuvée, La Perle, is even riddled and disgorged by hand. In recent years, the Champagne AYALA Le Blanc de Blancs vintage cuvée has become increasingly prominent in its category.
As well as having their own vineyards, AYALA benefits from long standing relationships with growers to guarantee the highest quality and consistency. At AYALA, blending is an art; purity a signature. The AYALA range encapsulates the purest expression of Chardonnay, the Maison's signature grape variety.