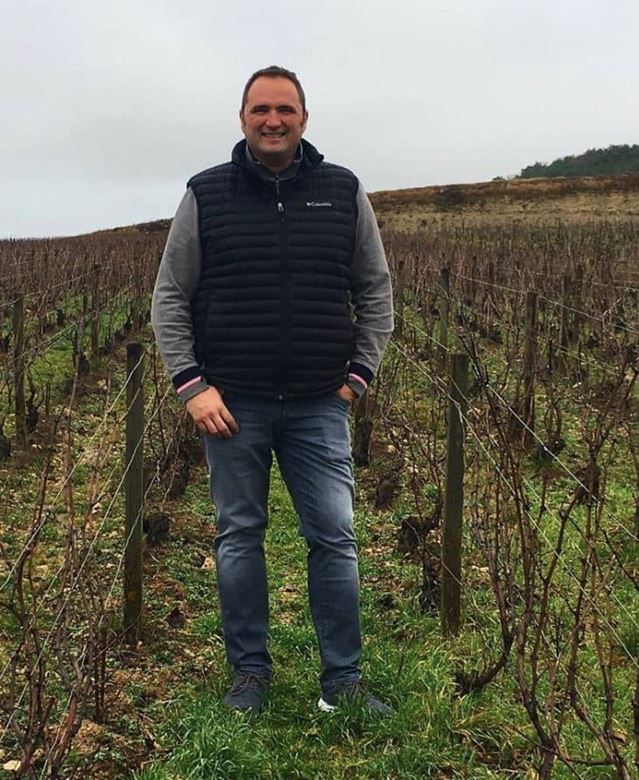 Jérôme Coessens family have owned vineyards in the village of Ville-sur-Arce for five generations but it was only in 2006 that he decided to start to produce Champagne under the Coessens label.
Up to this point the family had grown grapes and sold them to the large Champagne Houses other than a very limited amount that was bottled by his father from 1972 to 1999.
The vineyards total 6.5 hectares but Jérome chooses to use only one called Largillier for his Champagnes. This monopole of 3.36 hectares of just Pinot Noir vines of around 35 years in age.
"In 2011 we undertook a number of excavations in Largillier and we discovered that the soil in this vineyard that is so dear to us, is a type called Kimmeridgian Marl No. 2. The soil, the subsoil and even the exposure, down to the very last detail, are exactly the same as in the very best areas of Chablis"
Jérome soon realised that this sloping south-east facing vineyard produced grapes of different character depending on the part of the vineyard that they had been grown. He named the four subplots, Mineral, Fruity, Flowery and Substance.
The viticulture is environmentally driven, Jérôme explains
"We till the soil between the rows of vines in order to encourage deeper rooting and we grow grass between the rows to control the growth of the vines. The secret of creating great champagne starts in the vineyard with the vine itself. All the quality and the inimitable character of the terroir are to be found in the grapes".
In 2008 Jérôme constructed a new cellar and pressing facility which included a large investment in a state-of-the-art Coquard PAI 8,000kg capacity press which allows him to contract press for other growers in the area.
He is never afraid to seek other opinions and will regularly carry out dosage tastings with three friends to seek out the best balance. Sometimes the wines number over 100 and all are tasted blind.
A friendship has also been forged with Yves Confuron of Domaine Confuron-Cotétidot who helps in advising on the two Coteaux Champenois that Jéröme produces in selected years.
One undergoes a 15-day maceration of the destalked bunches and the other has a 20-day maceration of the whole bunches.
These wines are highly acclaimed with only around 1,000 bottles of each produced in 2014 and 2017.
The total number of bottles that Jérôme produces per vintage will number less than 15,000 as some are not necessarily bottled in for each vintage. Other than the bottling under the "Exogyre" label, all of the Champagnes are single vintage which Jérôme prefers to state on the back label. Only the Extra Brut bottled from the "Substance" subplot has the vintage stated on the front label.