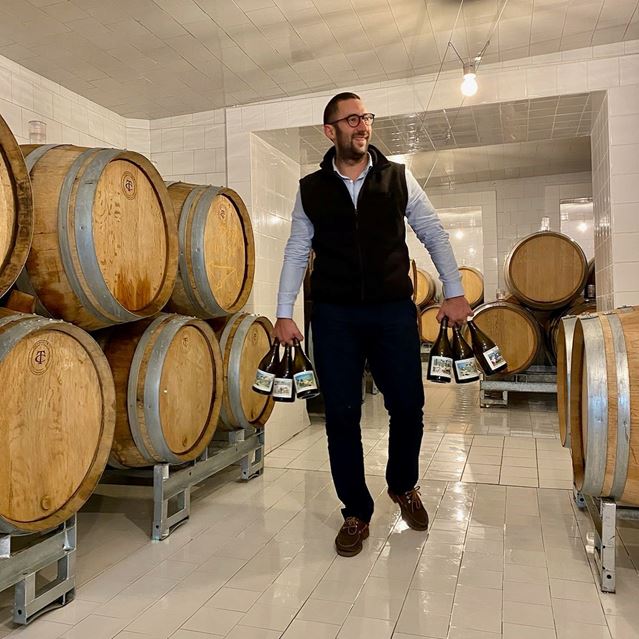 Fabian Daviaux is extremely focused and passionate about winemaking naturally. He is the seventh generation of the family to be a Grower and winemaker.
In 2008 Fabian graduated from the Georges Chappaz Institute based at the University of Reims. He then decided to expand his winemaking knowledge and spent some time traveling the world making wine on four different continents.
His philosophy around organic wine developed during his studies. Initially, organic wines were hard to find on the market and many were not to Fabian's taste or badly made. This changed over the years, Fabian continued to learn and work with like-minded friends and his focus was to work without chemicals in the vineyard and the cellar.
Under Fabian's leadership, the Daviaux family vineyards will become organically certified after the 2022 vintage.
In addition to managing the 5ha of family vineyards Fabian became the Cellarmaster of the Cooperative in Chavot Courcourt in April 2019. The cooperative was founded by his grandfather and eleven other families in 1946.
The Cooperative members now number around thirty families many of whom have seen the results that Fabian has produced and have decided to work in a more natural way. His dream is that in time one day all the Growers will be organic!
When asked, Fabian said that he is an extremist in his thinking and that he has spent thirteen years learning and understanding how to make wine without sulphites.
The Champagne Chavost "No added Sulphites" range was first released in April 2021 and is made from organically grown grapes from the family's 5ha of vineyards across 22 plots. The vines are between 35 and 60 years old.
Chavost Blanc d'Assemblage

Brut Nature

Chavost Blanc de Chardonnay

Extra Brut

Chavost Blanc de Meunier

Brut Nature