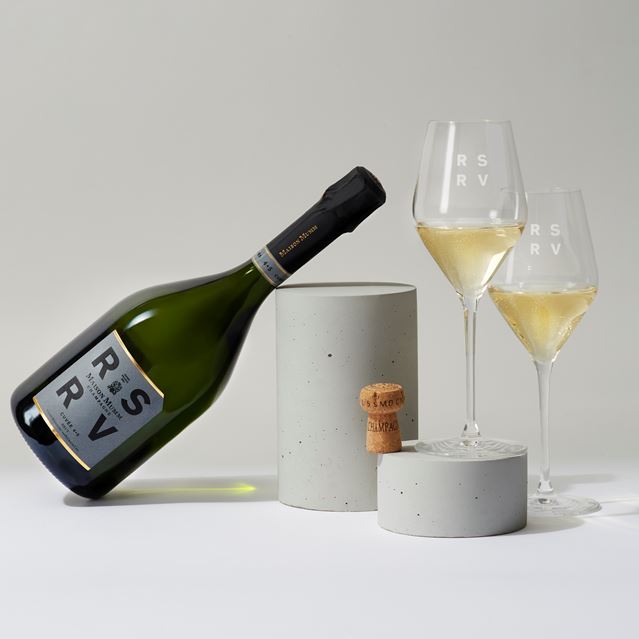 Since 1838 the chairmen of this prestigious Champagne house have been gifting some of its finest bottles to a select few, all of which were marked in the cellar book as 'reserved' by the initials RSRV. These bottles were accompanied by a visiting card with a corner marked down, which signified, to those in the know, that they were being delivered to someone of significance to Mumm.
In the 21st century, Maison Mumm decided to open up this prestigious tradition to the world and introduce a range of grand cru cuvées under the RSRV label. As a nod to the history of these 'reserved' Champagnes, one corner of the label is folded down to mimic the original calling cards.Each bottle in the RSRV range is made from a blend of grapes from across Mumm's grand cru vineyards, and in its own way expresses the essence of this historic Champagne house.
Mumm was founded in 1827 by three German brothers who wanted to extend the family winemaking and merchant business into Champagne. The company acquired its first parcels of land, in Verzenay, in 1840 and installed a wine press directly in the vineyard so as to create the highest-quality juice possible. This was not the only innovation, as the company also began purchasing whole grapes, rather than juice, from other growers so as to have complete control over the quality of the juice used in their wines.
In 1876 the company was to develop its most iconic design feature - the red stripe or 'cordon rouge' which was inspired by the red sashes bestowed upon those distinguished individuals receiving the highest of French honours, the Ordre Royal et Militaire de Saint Louis and the Grand Cordon de la Légion d'Honneur.