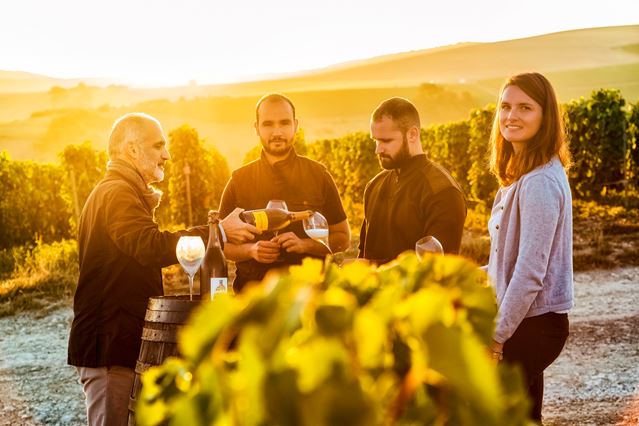 An eighth-generation family business, the house was founded in 1808, and occupies magnificent twelfth-century cellars built by Cistercian monks. Indeed, it was members of this monastic order who travelled up from Burgundy to the Aube region nearly a millennium ago, and planted the early ancestor of Pinot Noir.
In the early twentieth century, however, Pinot Noir had fallen out of favour in the region. Drappier could sense its potential and was the first to replant it in the 1930s, earning ridicule from neighbours until the quality advantages became clear. Other innovations have followed: rosé in a clear bottle was introduced in 1968; extremely low levels of sulphur are used, and there is even a no-added-sulphur cuvée made; the liqueur d'expédition is matured for over fifteen years in oak and demi-johns; and Drappier is the only house to ferment every format, from half-bottles up to the gigantic 30-litre Melchisédech, in the bottle in which it is sold.
Today, Drappier owns fifty-five hectares of vineyard around the town of Urville, with another fifty hectares under contract in the Côte des Bar, Montagne de Reims, and Côte des Blancs. Although Pinot Noir accounts for the majority of wine produced, the style is not heavy. There is a vivacity and lightness of touch here that demonstrates great skill since these champagnes have plenty of concentration and substance. And, again despite the Pinot dominance, the house has a great feel for Blanc de Blancs, be it 100% Chardonnay, or the rare blend of all four, mostly obscure, white grapes permitted in Champagne.
Drappier Millesime Exception 2010

Drappier Grande Sendree 2012